---
All orders are charged 7% sales tax.
Take delivery in August or September for best quality & selection.
Most orders are delivered in 48 hours, but we should still plan ahead as much as possible.

Remember Finco Tree and Wood Service for all your needs! We provided trimming, thinning, cleanup, hedge trimming, mulching, planting, general hauling, stump grinding, rough cut mowing, on-site custom chipping, and general arboriculture. Top quality live trees & shrubs are also for sale. Native lumber (Ash, Mulberry, Oak, Cedar, and Pine) is available for sale by the board foot.

Call today for a free estimate!
To All Our Valued Customers:

Once again, we are stocked with huge quantities of quality firewood this year. Our burning is now complete and we are ready to start delivering to our customers anytime. We have added more employees and another truck to ensure fast service. Most wood orders are shipped within 48 hours. Top quality hardwood firewood, guaranteed to be seasoned and fair measure is our goal. We stock mixed hardwoods for fireplaces and fire pits, which can include Oak, Elm, Locust, Hackberry, and Walnut. Straight runs of Oak and Locust are also available for woodstoves. Sizes are 2 foot, 16"-18" (most common) and 16" and under (for small stoves and inserts.)

All our hardwood firewood is unconditionally guaranteed to be seasoned, of proper measure and delivered in a timely manor. We use mixed hardwoods recycled from tree removal work-never removing trees just for firewood production.

Sometimes this may cause shortages so take delivery early! Firewood for cooking, smoking or camping also available. Trees from tree work are cut and let lay for 1 year then split and set in air dry bins for another year. Premium quality clean wood ready for delivery nearly 2 years after trees are removed. Our delivery personal are neat, timely and efficient.
---
Full Cord (128 Cubic Feet [4x4x8])
Free Delivery to Story, Boone, Polk, & Hamilton Counties!
$400.00 - Delivered & Dumped
$450.00 - Deilvered & Stacked

Half Cord (64 Cubic Feet [4x4x4])
Free Delivery to Story & Polk County Only.
$300.00 - Delivered & Dumped
$350.00 - Deilvered & Stacked

Campfire Wood and Smoker Wood (Hickory, Oak, Apple)
Delivery also available for $10.00/Cubic Ft. (10 Cubic Ft. Bundle Minimum)

Fatwood Fire Starter
Decorator 8 lb. Bags $ 21.95

Native Mulch
Free
$100 Delivery Charge may Apply
---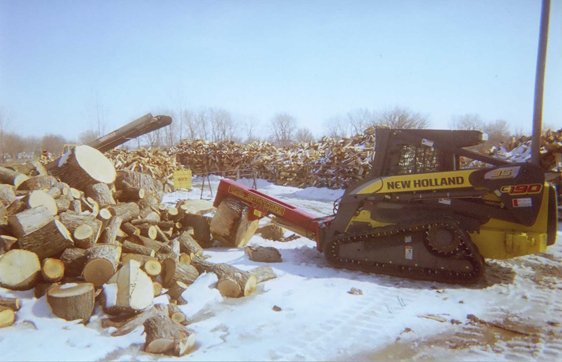 This New Holland Skidloader splits huge logs our staff cannot lift safely.
---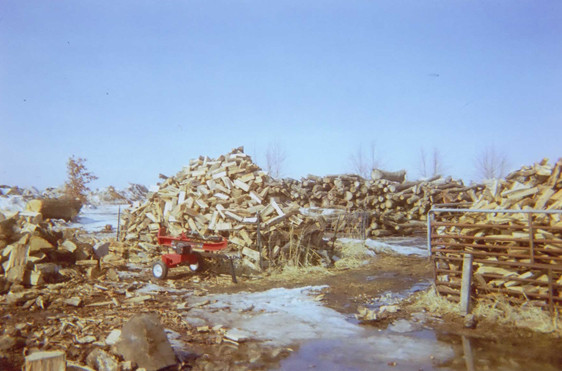 Open air bins store wood for air drying.
---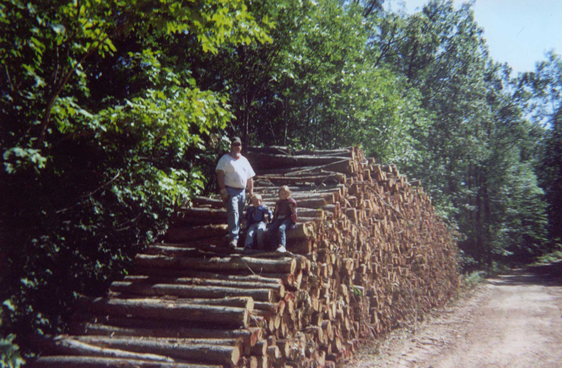 Finco family and friends survey firewood harvesting operations in the Black River Falls national forest area in Wisconsin.
---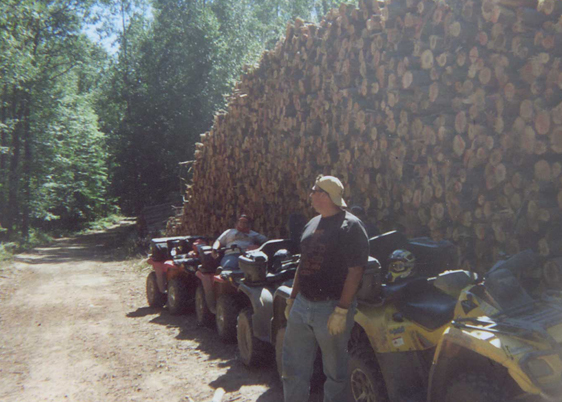 Finco firewood doesn't begin this way. At Finco we recycle trees from Urban Logging, trees that must be removed or trimmed anyway.